Barbera 1st Generation Ground Espresso Coffee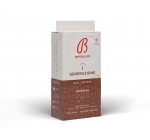 Barbera - Barbera 1st Generation Ground Espresso Coffee
1st Generation is a mixtures made with coffees, selected to exalt its body and strength. The traditional slow roasting of its different assortments of coffee, allows to arrange a pleasant drink, characterized by an intense and lovely smell, a concentrated taste, rich and clean. The after-taste is intense and it protractedly persist above palat. More sutable for espresso machines.
[Size: 250g (8.8oz)]
This item has been added to your cart! You now have 0 items in your cart.