Segafredo Zanetti "Deca Crem" Decaf espresso pods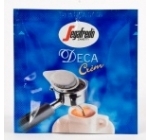 Segafredo Zanetti - Segafredo Zanetti "Deca Crem" Decaf espresso pods
Segafredo pods are back!! The unmistakable fragrance and taste of Segafredo Zanetti decaffeinated coffee captured in a pod. The package holds 18 disposable single-dose pods, each with 7 grams of coffee and packed individually.
[Size: E.S.E. 45mm pod]
This item has been added to your cart! You now have 0 items in your cart.