Molinari ORO espresso pods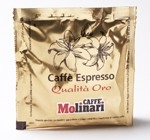 Molinari - Molinari ORO espresso pods
Oro blend, perfectly preserved, prepared with top-quality coffee sorts. It is ground and pressed in the typical Italian style, for people who love the unmistakable taste and flavour of a unique coffee quality.
[Size: E.S.E. 45mm pod]
This item has been added to your cart! You now have 0 items in your cart.