Molinari Decaf espresso pods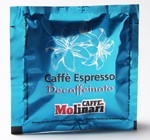 Molinari - Molinari Decaf espresso pods
Blend of Arabica and Robusta. The overall harmony of the aromas that compose this blend makes it difficult to distinguish from normal non-decaf Espresso. Smooth and full-bodied.
[Size: E.S.E. 45 mm Size Pods]
This item is currently out of stock
You will be notified when this item becomes available.
If you would like to be notified when it is available, please enter your email address below.
This item has been added to your cart! You now have 0 items in your cart.