Molinari "Bio" 100% Organic & Fair Trade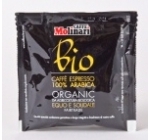 Molinari - Molinari "Bio" 100% Organic & Fair Trade
** WORLDS FIRST 100% ARABICA ORGANIC & FAIRTRADE E.S.E. POD!! ** CAFFÈ MOLINARIS 100% ORGANIC and FAIRTRADE ARABICA combines the flavour of an excellent Italian coffee, thanks to CAFFÈ MOLINARIS unmatched experience in selecting the best mixtures, with care for a knowledgeable and ethical consumption. CAFFÈ MOLINARI BIO is in fact one of the first espressos in the world to be certified both by organic agriculture and fair trading and overturns the concept of a product only for a niche or even of poor quality, because it is intended for the average consumer who is daily looking for a coffee product which tastes good. And besides this it gives a contribution to those who are really in need.
[Size: E.S.E. 45mm pod]
This item is currently out of stock
You will be notified when this item becomes available.
If you would like to be notified when it is available, please enter your email address below.
This item has been added to your cart! You now have 0 items in your cart.