Lucaffe "Mamma Lucia" Blend espresso pods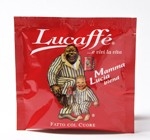 Lucaffè - Lucaffe "Mamma Lucia" Blend espresso pods
Gentle flavor, generous and soft body, medium dense froth and an excellent aroma. apart from feeling better, you will feel rewarded after drinking this good coffee.Available in 18, 40 or case of 150 pods.
[Size: E.S.E. 45mm pod]
This item has been added to your cart! You now have 0 items in your cart.