Lucaffe' "Exquisit" Double Shot (55mm) espresso pods
New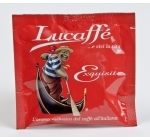 Lucaffè - Lucaffe' "Exquisit" Double Shot (55mm) espresso pods
**ATTENTION 55MM SIZE PODS DONT WORK IN ESE MACHINES** **PURCHASE ONLY IF YOU HAVE USED DOUBLES BEFORE PLEASE** Drinking this rich coffee in the morning will genuinely give you a taste for life. A perfect blend of flavor and aroma made with selected 90% Arabica beans and 10% Robusta.
[Size: 55mm espresso pod]
This item is currently out of stock
You will be notified when this item becomes available.
If you would like to be notified when it is available, please enter your email address below.
This item has been added to your cart! You now have 0 items in your cart.