Lucaffe Blucaffe espresso pods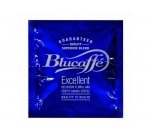 Lucaffè - Lucaffe Blucaffe espresso pods
This prestigious and exclusive selected blend of Arabica types of coffee from the Small islands around Jamaica makes this coffee a genuine jewel amongst coffees. Its unbeatable aroma, reminiscent of chocolate, and also mildly of banana, gives us truly perfect enjoyment of a cup of espresso. Available in quantity's of 18, 40 or wholesale case of 150 pods.
[Size: E.S.E. 45mm pod]
This item has been added to your cart! You now have 0 items in your cart.