Zicaffe Densacrema Zidec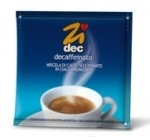 Zicaffe - Zicaffe Densacrema Zidec
Zidec coffee pod is made of selected decaffeinated green coffees. This blend gives a full-bodied espresso with a dense and persistent crema, and very low caffeine content (<0,10%). It's ideal for home and office users, with handy automatic coffee machines. Daily packing in modified atmosphere guarantees fragrance preservation.
[Size: E.S.E. 45mm pod]
This item has been added to your cart! You now have 0 items in your cart.