Zicaffe Densacrema Gustofine 100% Arabica Blend
New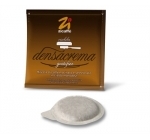 Zicaffe - Zicaffe Densacrema Gustofine 100% Arabica Blend
It is a blend of very fine, aromatic quality 100% Arabica Blend. The same selected for bars: the result is a cup of creamy coffee with a pleasant taste the leaves a fresh sensation in the mouth. It is ideal for taking a good cup of coffee in officies or at home using practical and simple pod coffee machines. The aroma is preserved as the pods are produced daily in hermetic packs filled with an inert gas.
[Size: 45mm ESE Pod]
This item is currently out of stock
You will be notified when this item becomes available.
If you would like to be notified when it is available, please enter your email address below.
This item has been added to your cart! You now have 0 items in your cart.