Bristot 1919 Double Shot (55mm) espresso pods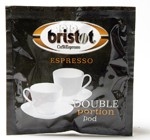 Bristot - Bristot 1919 Double Shot (55mm) espresso pods
**ATTENTION 55MM SIZE PODS DONT WORK IN ESE MACHINES** **PURCHASE ONLY IF YOU HAVE USED DOUBLES BEFORE PLEASE** An exciting selection of the most prestigious green coffees, prized by true connoisseurs of Italian espresso, it is a blend with real personality and class.
[Size: 55mm espresso pod]
This item has been added to your cart! You now have 0 items in your cart.