Lucaffe' Serving Tray Duo Color Extra Large
New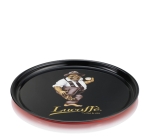 Lucaffè - Lucaffe' Serving Tray Duo Color Extra Large
Lucaffe' latest new tray extra large at an approx.16 inch in diametere, nice bold Black is actually on the outside the inner is Classic look red. In color with there famous logo in the middle, this tray has a low profile sides compared to the round that is deeper and has an anti slip sparyed in the inside of the tray to avoid cups and glasses to slide.
[Size: 16 inch diameter]
This item is currently out of stock
You will be notified when this item becomes available.
If you would like to be notified when it is available, please enter your email address below.
This item has been added to your cart! You now have 0 items in your cart.