Water Reservoir Water Softener Cartridge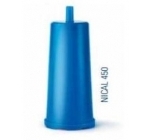 Bilt - Water Reservoir Water Softener Cartridge
Using the osmotic principle of saline solutions, it removes the calcium and magnesium ions from the water which are responsible for the incrustation of boilers and heat exchangers. Hooks up at the end of the water hose in your tank. Replace every 2-4 months depending on the hardness level of water your using.
This item is currently out of stock
You will be notified when this item becomes available.
If you would like to be notified when it is available, please enter your email address below.
This item has been added to your cart! You now have 0 items in your cart.