Segafredo Zanetti "Espresso Casa" espresso pods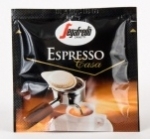 Segafredo Zanetti - Segafredo Zanetti "Espresso Casa" espresso pods
From the coffee professionals comes a balanced blend of the highest Arabica and Robusta qualities, creamy and with an intense fragrance. Exactly like an espresso at the bar. An exceptional blend of high quality Arabicas give this pod a smooth lite northern Italian style espresso shot.
[Size: E.S.E. 45mm pod]
This item has been added to your cart! You now have 0 items in your cart.