Lucaffe' Sampler 40 Espresso Pods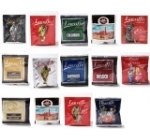 Lucaffè - Lucaffe' Sampler 40 Espresso Pods
Smaller version of the Lucaffe' Super sampler, this packet will give you 40 Lucaffe' pods all the type of pods Lucaffe' creates. YES the ultimate Jamaican pod also! The mix goes as follows> 4 100% Arabica- 4 Classica- 4 Colombia- 4 Ospite- 4 Exquisit- 3 Decaf- 2 *Jamaica- 4 Piccolo&Dolce - 4 Mamma Lucia- 3 *Blucaffe' 4 Pulcinella [ * Premium pods] *Note any out of stock pods will be substituted.
[Size: E.S.E. 45mm pod]
This item has been added to your cart! You now have 0 items in your cart.