*Nespresso Compatibles Grand Sampler 40 Capsules
New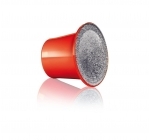 EspressoTiamo - *Nespresso Compatibles Grand Sampler 40 Capsules
All of Espressotiamo's Nespresso compatible capsules in 1 pouch, perfect way to taste them all without buying 10 or 20 at a time of each type. * Photo will soon be updated. Your getting 2 Capsules of each of these brands. 2 El Tostador Forte, 2 Barbera espresso Red, 2 Barbera Classic white, 2 each of Molinari Oro, Classic, 100% Arabica, 2 Pera Dolce Aroma, 2 Pera Crema Bar, 2 each of all Compagnia Dell'Arabica types including the Gran Riserva's, 2 100% Arabica, 2 Intenso, 2 Guatemala, 2 Kenya, 2 Colombia, 2 Brazil, 2 India, 2 El Salvador, 2 Ethiopia, 2 Ginseng, 2 CostaRica and 2 100% Arabica Organic. Total 40 capsules, if any are out of stock they will be replaced with doubling of another type, no Decaf in this sampler.
[Size: 40 Compatible capsules]
This item has been added to your cart! You now have 0 items in your cart.