Caffe Pera Oro "Crema Bar" Nespresso Capsules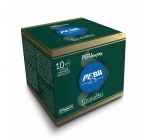 Caffe Pera - Caffe Pera Oro "Crema Bar" Nespresso Capsules
Capsules ORO – Nespresso® Compatible** New packaging and name now called Crema Bar**
***Sale price because this batch expires Nov 2017*** Keep in mind espresso does not actually expire and the grounds are sealed in the capsule to last well beyond expiration dates.
The Crema Bar blend, in capsules.
Blend: 30% Arabica 70% Robusta
A rich full-bodied cup with strong sensations, sweet, with light spicy nuances.
The aftertaste is full with a persistent aroma of coffee and notes of cocoa.
Compatibility

Caffè Pera coffee capsules are compatible with Nespresso®* Citiz, Pixie, Essenza, Lattissima & Maestria coffee machines for home use.
*Nespresso® is a registered trademark of Societe des Produits Nestle S.A. The trademark is not the property of Caffè Pera S.p.A. or other connected companies or resellers.
Organoleptic characteristics
Body
Aroma
 
 
Acidity
 
 
 
 
Sweetness
 
Fruity
 
 
 
 
 
Roasting
Light
 
Medium
Dark
 
[Size: Nespresso type]
This item has been added to your cart! You now have 0 items in your cart.