Caffe' Gioia "Classico" espresso pods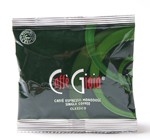 Caffe Gioia - Caffe' Gioia "Classico" espresso pods
Aroma and body just like the espresso served at the Bar. The blend of 50% quality Arabica and 50% quality Robusta create a full bodied, very rich, typical Neopolitan espresso.
[Size: E.S.E. 45mm pod]
This item has been added to your cart! You now have 0 items in your cart.